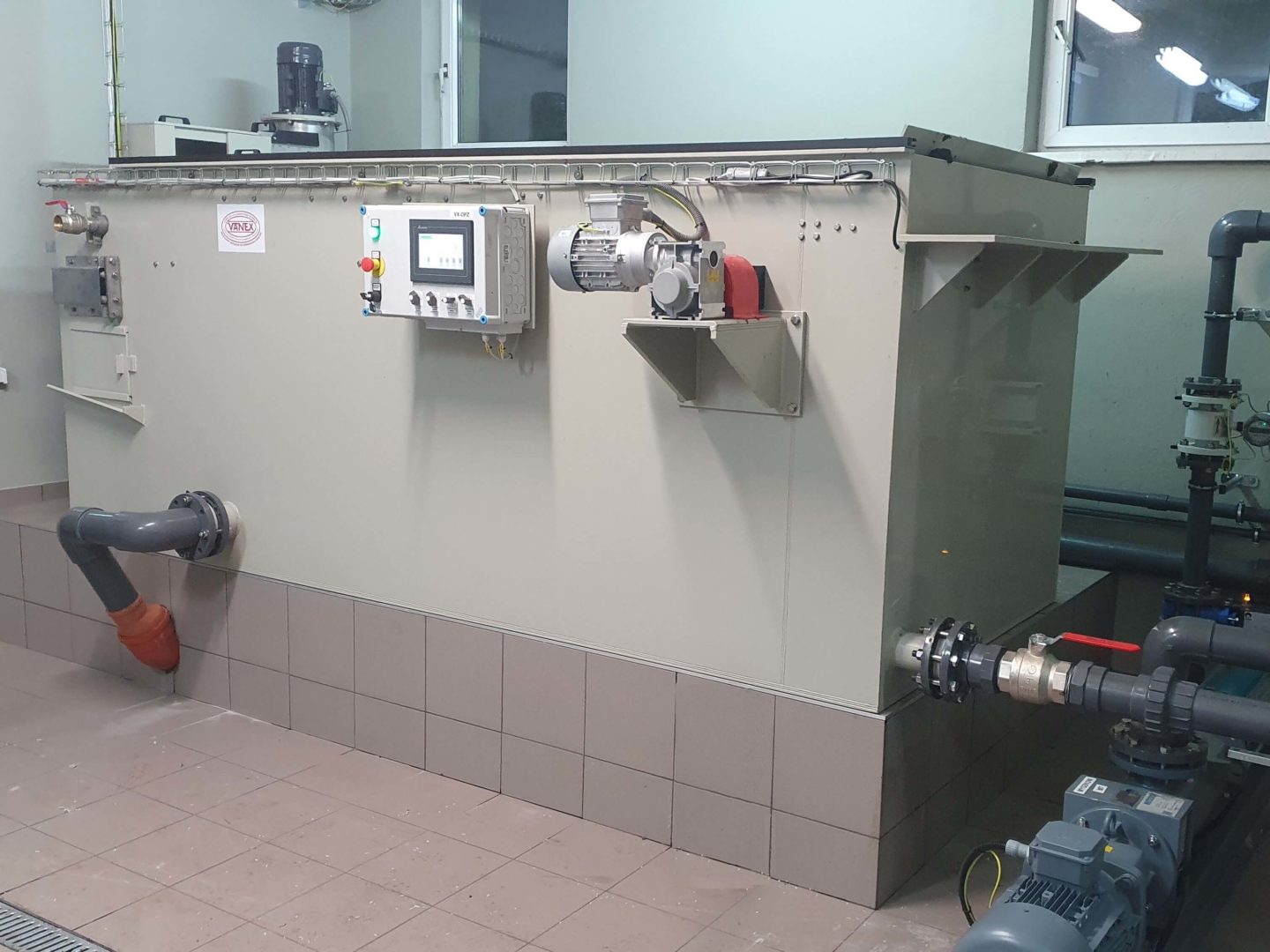 Belt thickener is a device for the mechanical continuous dewatering (thickening) of various types of media or sludge (from WWTPs and industrial sources), prior to further processing of the thickened component (for example with a belt press), and recycling of the liquid component – filtrate (for instance, as rinse water).
Technical requirements
Voltage system: 3 + PEN  ~ 50Hz, 400/230V, TN – S,
Utility water (flow rate 2-3 m3/hour, pressure approximately 0.3 MPa), or with filtrate
Connection to chemical preparation unit (if flocculant is required according to the technological process)
Connection to compressed air minimum 6 bar (with air regulation if specified)
Type table
Based on the parameters, it is possible to select the thickening equipment that is ideal from both a functional and energy perspective. In addition to the standard type, we can customize the equipment according to customer requirements. When selecting the equipment, attention should be paid to:
Input factors:
Dry matter – (ideally send for analysis to Vanex)
Proportion of organic substances – (ideally send for analysis to Vanex)
Performance (m3/h) – inflow of material intended for processing
Flocculant – determined based on analysis
Output factors:
Dry matter – (ideally send for analysis to Vanex)
Filtrate
Operating principle
Material intended for thickening is introduced:
directly on the hopper (without adding flocculant)
through a mixing chute (where sludge is mixed with a flocculant solution)
through a high-speed mixer (where sludge is mixed with a flocculant solution) 
Sludge (sludge with flocculant) flows onto the filtration screen, where dewatering begins (free water passes through the screen and accumulates in the filtrate tank, while the thickened material remains on the filtration screen and moves in the direction from the tensioning roller to the drive roller, where the scraping is located and separates the thickened material (which can be further processed, for example, by a belt press). Water that drains due to gravity into the collection container below the thickener. From the collection container under the press, water drains by gravity or can be reused for rinsing the filtration screen (of the device itself or another in the dewatering line), thus recycling it.
Modifications
Pásový lis môže byť vyrobený v niekoľkých modifikáciách. Sú to:
Modification without protective roller
Modification with protective roller
Modification without base
Modification on a stainless steel base
Gallery
Are you interested?