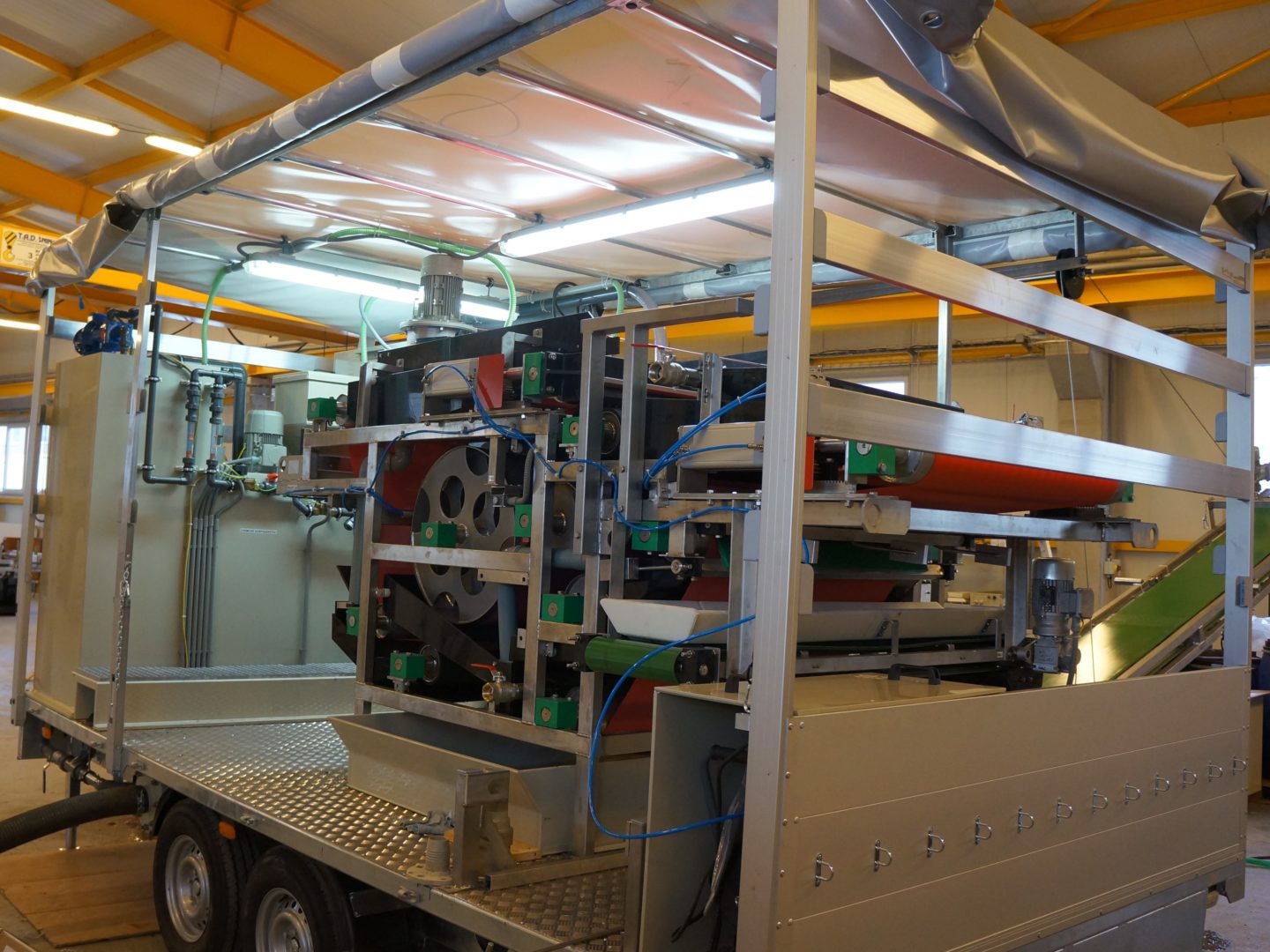 Mobile sludge dewatering line
Mobile sludge dewatering line
Based on the clients' needs, VANEX has developed a type of dewatering line that can be placed on the chassis of a truck or on a separate trailer or semitrailer. A mobile sludge dewatering line is especially suitable for locations where it is necessary to dewater sludge at multiple points.
All the requirements for dewatering, with a focus on maximum efficient separation of the liquid component – water (with the possibility of recycling) and the solid component – sludge (and its pressing), are fully preserved.
Technical requirements
Input dry matter content 1 – 4%
Storage tank for sludge with mixer (accumulation of sludge during the absence of the mobile equipment)
Horizontal area with dimensions (specified according to the type of components used and customer requirements) for equipment placement,
Voltage system: 3 + PEN  ~ 50Hz, 400/230V, TN – S,
Utility water (with a pressure of 5-6 bar), or the option to use filtrate,
Drinking water (flow rate 2-3 m3/h, pressure approximately 0.3 MPa),
Appropriate type of flocculant (powder, emulsion)
Variability of mobile dewatering line
Considering that some wastewater treatment plants need to dewater at multiple locations, a type of line that can be placed on the chassis of a truck or on a separate trailer or semitrailer has been developed. Mobile dewatering lines from VANEX are adapted for maximum functionality and efficiency based on specifications. The input and output points of various media are designed to facilitate the quick deployment of the mobile equipment or its transition to a transport state. Inlets for sludge and wash water are terminated with quick couplings.
Mobile lines can take various modifications based on the components used. The fundamental component is a belt press, to which additional components are added according to specific needs. An example of a standard mobile dewatering line:
Belt press with chemical preparation unit and conveyor
Operating principle: In the chemical preparation unit, a flocculant solution is produced. It is introduced (via a dosing pump) into the dynamic mixer on the belt press, where it is mixed with sludge (introduced by a sludge pump). The mixture (sludge and flocculant) is separated into a liquid and solid component after the pressing process. The solid component falls onto a belt conveyor, which transports it to the designated location.
Gallery
Are you interested?