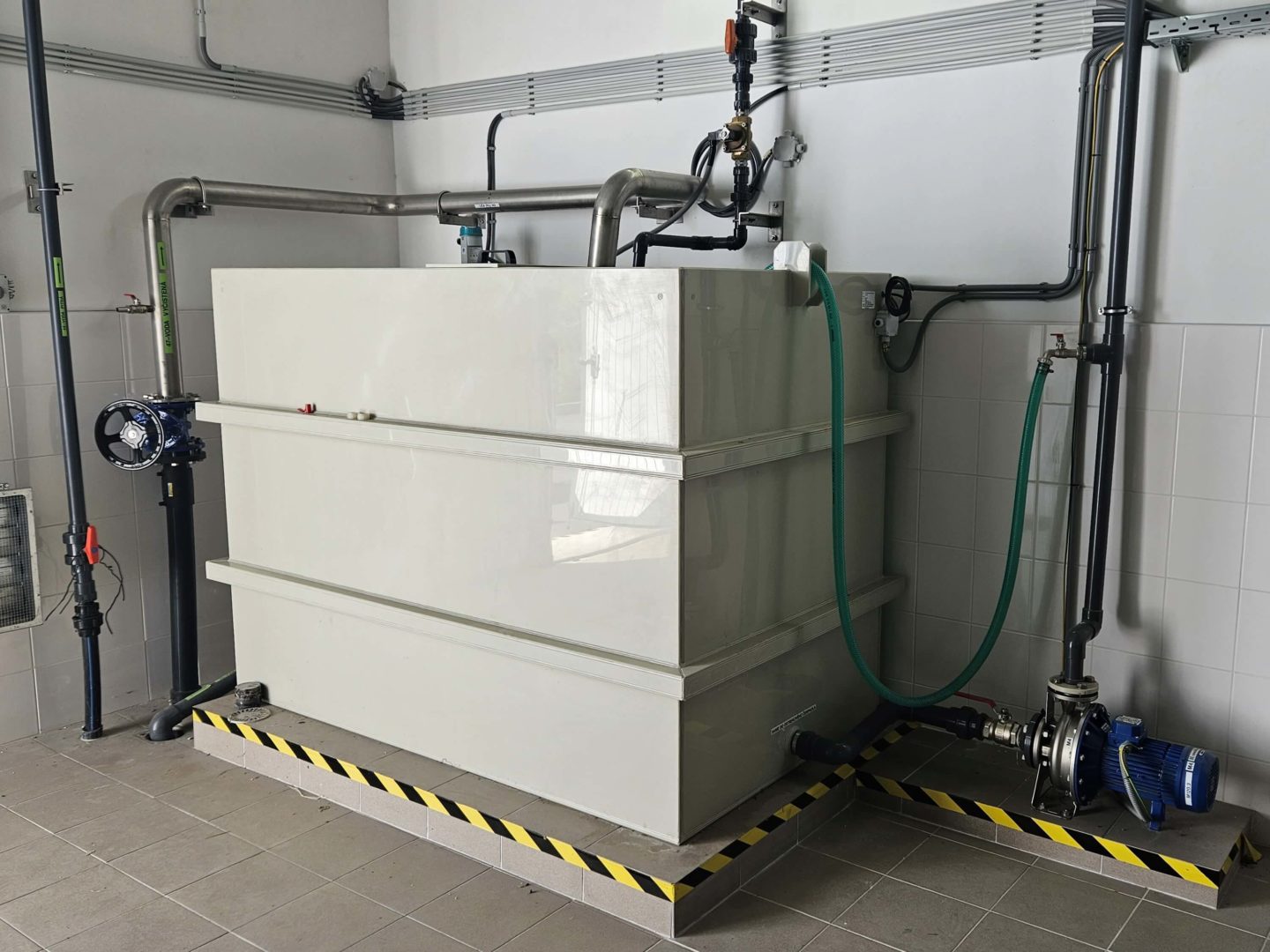 A storage tank is a device primarily designed to ensure an adequate quantity of water as well as its cleanliness. In the lines manufactured by the company VANEX, it is used to create a water supply primarily for rinsing (cleaning) the filtration belts of belt presses and thickeners.
Technical requirements
– Voltage system: 3 + PEN  ~ 50Hz, 400V, TN – S,
– Utility water (flow rate 2-3 m3/h, pressure approximately 0.3 MPa),
Type table
In addition to the standardly manufactured type (see table below), we can functionally customize the equipment according to the customer's requirements (width, length, and height). 
| | | | | |
| --- | --- | --- | --- | --- |
| TYP | Celková dĺžka (mm) | Celková dĺžka (mm) | Celková dĺžka (mm) | Celková dĺžka (mm) |
| VX-ZN | 2000 | 1160 | 1620 | 300 |
Operation principle
Water is introduced into the tank through the supply pipeline via a pneumatic valve. The outlet of the supply pipeline needs to be positioned so that the incoming water falls onto the stainless steel sieve. This sieve captures impurities brought in by water, which, after accumulating in the collection part of the tank, are discharged from the tank through a discharge valve.
The tank is covered with a lid, which serves to capture water during the manipulation of the movable rinse. The movable rinse is used to clean the stainless steel sieve with clean pressurized water supplied by a rinse hose.
The maximum and minimum water levels are controlled by floats SL1 – Lack of rinse water and SL2 – Automatic filling of rinse water. Based on information from the floating sensors, the pneumatic valve opens and closes.
Typically, water is pumped out of the tank (the pump is not part of the tank) and pumped to the intended location.
Gallery
Are you interested?