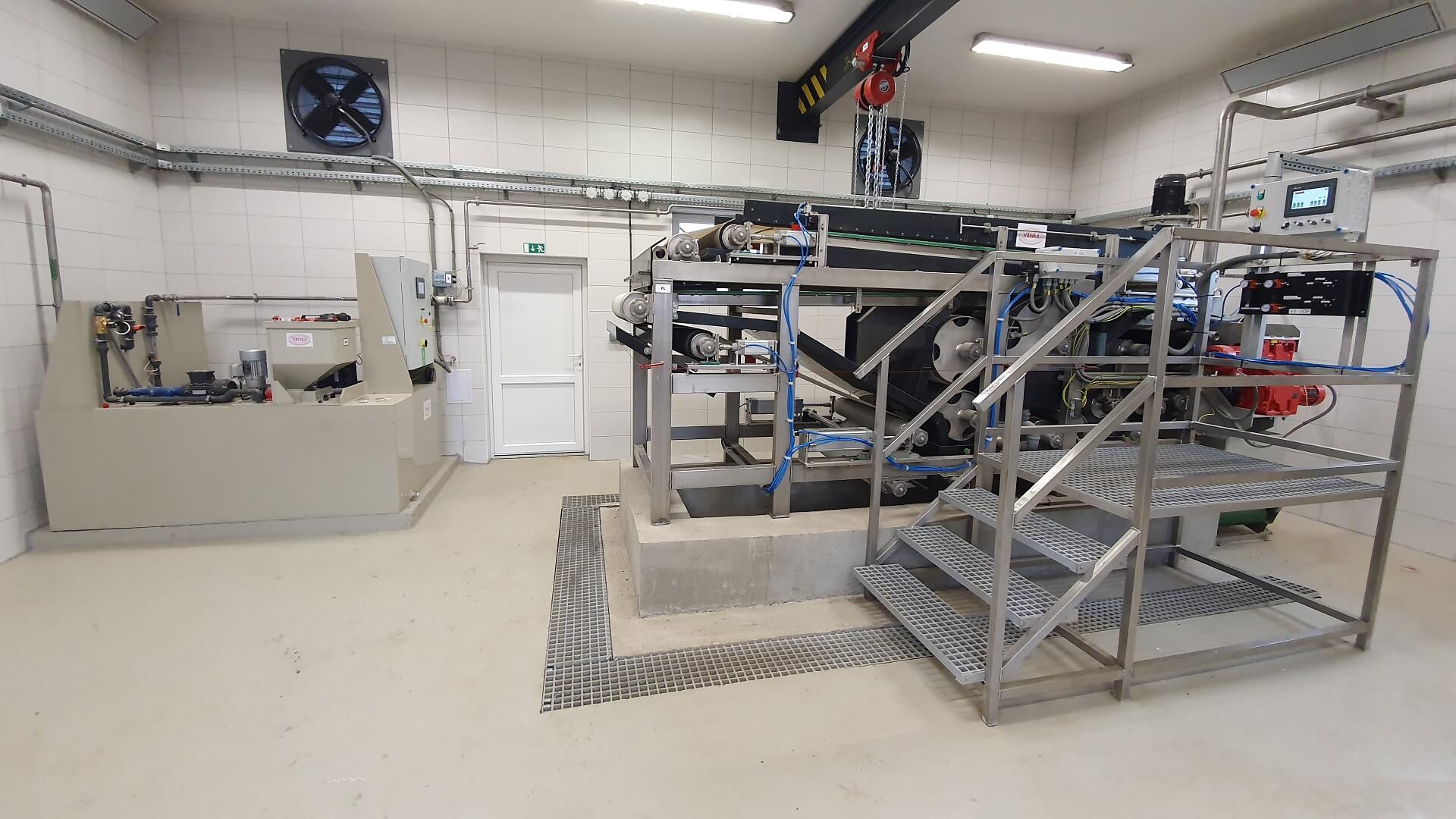 Stationary sludge dewatering line
Stationary sludge dewatering line
The processing of municipal sludge takes place in wastewater treatment plants in several stages. The final stage involves dewatering the sludge, aiming to separate water from the solid components and pressing it out. Currently, there are increasing demands for the processing and storage of waste. In practice, this means minimizing waste in terms of volume and weight. VANEX dewatering and pressing lines are designed for this purpose, with a focus on maximally effective separation of the liquid component – water (with the possibility of recycling) and the solid component – sludge (and its pressing).
Technical requirements
Homogenized sludge with an input dry matter content of 1 – 4%,
Voltage System: 3 + PEN  ~ 50Hz, 400/230V, TN – S,
Utility water (or the possibility to use filtrate for washing filter belts),
Drinking water (pressure min. 3 bar),
Suitable type of flocculant (powder, emulsion)
Variability of pressing and dewatering lines
Each location has its specific requirements regarding the composition of sludge and the possibilities of placement in the hall. Therefore, individual VANEX pressing lines are adapted in terms of functionality and efficiency. Various modifications of pressing lines are created based on the components they consist of and, of course, according to the customer's needs. The fundamental component is the belt press (selected based on the volume and input parameters of the sludge), to which additional components are added according to the customer's requirements. An example of a standard pressing line:
Belt press with chemical preparation unit, with a storage tank and conveyor
Operating principle: In the chemical preparation unit, a flocculant solution is produced. It is introduced (by a dosing pump) into the dynamic mixer on the belt press, where it is mixed with sludge (introduced by a sludge pump). The mixture (sludge and flocculant) is separated into a liquid and solid component after the pressing process. The solid component falls onto the belt conveyor, which carries it to the designated location. The storage tank serves as a reservoir for spray water to moisten the filtration belts of the press.
Galéria
Are you interested?